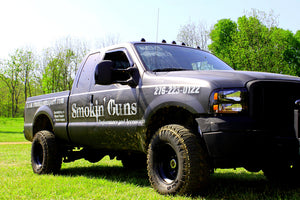 Welcome
Our shop is located at 244 E. Lee Hwy, Wytheville, Virginia. We have been enhancing vehicle performance since January 2010. We carry a full line of vehicle performance parts, including EFI Live, SCT, MBRP Exhaust, AFE intake systems, H&S Performance and many more. We offer installation on all the parts we carry, in addition to any we order or you may request. Smokin' Guns sponsors and attends many vehicle performance events, so please check out our upcoming events and consider joining us there!
Service Shop
We are a full service automotive garage that specializes in repairing, modifying, and accessorizing light duty diesel and gas pickups. Fully certified mechanics to offer you exactly what you need for your vehicle to keep it on the road. Oil changes, brakes, wheel bearings, ball joints, alternators, head gaskets, engine replacements. We can meet and or beat all advertised prices on any accessories or parts for your light duty pickup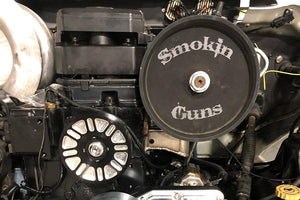 Testimonials
Aaron was great and accommodating. we had an issue with out diesel and he stayed open late till we arrived. we were traveling with 2 small kids and he got us back on the road in a timely manner. highly recommend Smokin' Guns Performance for any of you truck needs!!!! Thanks Aaron!!!!

Elizabeth Niedbalski
I absolutely recommend them. Aaron is one of the hardest working, honest men I've ever met. He'll do the job right.

RD Cannon
I haul boats for a living. I broke down with an oversize boat on a permitted restriction route and Smokin' Guns got me rollin' coal again. It is a breath of fresh air to see a business owner take care of business that quickly! Highly recommended!

Colter Nowlin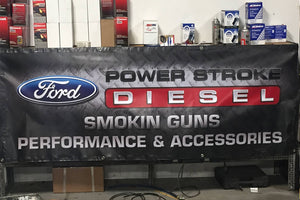 About the Owner
Smokin' Guns' owner, Aaron Pauley, is a 2000 graduate of Bland High School. After graduating high school, he attended New River Community College in Dublin, Virginia and graduated in 2002 with an Associate degree in Machine Technology. While attending college, Aaron joined the Army Reserve in August 2001. He was then deployed to Iraq for Operation Iraqi Freedom in March 2003. From July 2004 until July 2007 he was on active duty in the United States Army. After finishing his active tour of duty, he went back into the Army Reserve and pursued an Associate degree in Auto Mechanics at New River Community College. After finishing college, he decided to start his own business in January 2010 and Smokin' Guns Performance, LLC was born.
Brands We Offer